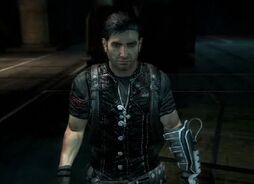 Rico Rodriguez is a CIA top secret agent who specializes in destabilizing governments and bringing down dictators, he is well known for using extreme measures and violence to complete his mission. This is his second appearance within the Just Cause canon, the first of course being in Just Cause.
One of Rico Rodriguez's first ever recorded assignments was on the Caribbean tropical island of San Esperito during 2006 in which a rebel faction was revolting against the current president Salvador Mendoza. Rico worked alongside fellow CIA operatives Tom Sheldon and Maria Kane.

The second recorded assignment was to the South-East Asian island of Panau in 2010 where a Dictator named Pandak "Baby" Panay has taken control of the island, the operative Tom Sheldon who was Rico's previous friend and mentor was sent to the island but disappeared and has believed to have gone rogue, Rico was then sent to find Sheldon and his whereabouts, The rest of the assignment was classified and details have yet to be revealed to the public on what events took place.
Section heading
Edit
Write the second section of your article here.